Congress Says That Scumbag Pelosi Undercut Bill Banning Congress from Stock Trading In Order To Protect Pelosi's Bribe Conduits
Democratic Representative Abigail Spanberger has accused House Speaker Nancy Pelosi of not acting in "good faith" on legislation that would ban members of Congress from trading stocks while in office.
Spanberger said during a Wednesday appearance on Fox News that Pelosi has deliberately stalled bipartisan legislation prohibiting lawmakers from trading individual stocks. The criticism against Pelosi over her reluctance to embrace a ban on congressional stock trading is the latest from Spanberger, who faces a competitive reelection race in Virginia.
Spanberger, along with Republican Representative Chip Roy, sponsored the Transparent Representation Upholding Service and Trust (TRUST) in Congress Act in 2020. The bill required members of Congress, along with their spouses and children, to put investments into blind trusts or keep their money in mutual funds.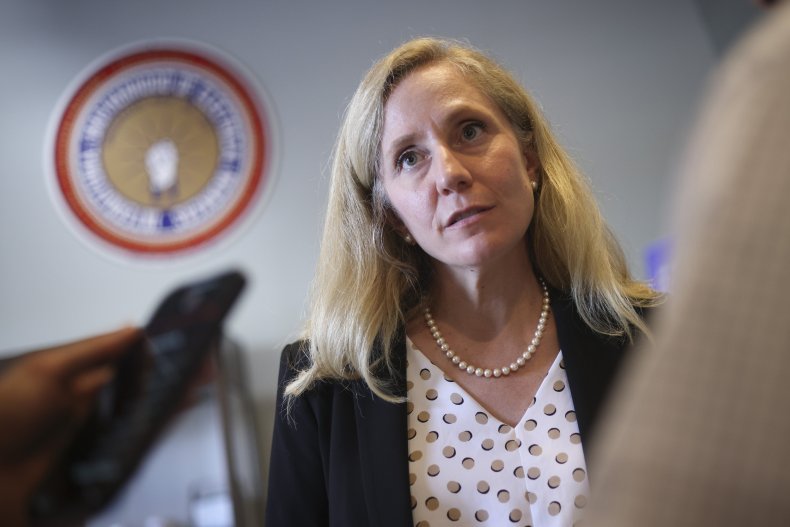 Bret Baier, host of Fox News' Special Report, asked Spanberger about the failure of the bill and Pelosi's statement that she was working on improved legislation.
"The American people are mad about it," replied Spanberger.
Despite her legislation having over 70 co-sponsors from both parties, she said Pelosi "employed stall tactic after stall tactic in order to keep delaying what's potentially a vote on any bill that would ban members of Congress from buying and selling stocks."
Pelosi earlier this year indicated she was open to restrictions on members of Congress buying and selling individual stocks, reversing her previous position. Members of Congress currently must publicly disclose stock trades.
A review of disclosures by Newsweek showed that in 2021 Pelosi and her husband, venture capitalist Paul Pelosi, purchased between almost $10 million to nearly $32 million worth of stocks.
Critics say current requirements allow for conflicts of interest, allowing members of Congress to use their access to information to buy and sell stocks. The practice has come under scrutiny with recent investigations from The New York Times and Insider.
"With members of Congress from both parties flouting basic financial conflict of interest laws, and appearing to personally profit off their positions of public trust, Americans are understandably questioning whether their government works on their behalf," Noah Bookbinder, president of Citizens for Responsibility and Ethics in Washington, said in a September letter to Congress.
Pelosi's office referred Newsweek to the speaker's remarks during her September 30 press briefing. During the briefing, Pelosi addressed an earlier press release from Spanberger that accused the speaker of engineering a stock trading bill that was designed to fail.
Pelosi responded by telling reporters that the revised legislation contained Spanberger's bill as well as other improvements, and that she was working to get votes for it.
"And they took her bill, added others that made the bill stronger, as a matter a fact," said Pelosi. "So this is an interesting press release, but it's more important to write a bill."
Spanberger, who flipped a Virginia House district that voted for Trump in 2018, has had a frosty relationship with Pelosi, refusing to vote for her as speaker.
She told Fox News that she would continue to not support Pelosi, saying the speaker had put forward a bill that "wasn't a good faith effort." Facing a tough reelection, Spanberger said she hears about the issue in her district and won't give up trying to get her bill passed.
"It's basic stuff we can take forward to demonstrate that we are deserving of the trust of the American people," she said.
The long history of eyebrow-raising stock purchases by House Speaker Nancy Pelosi's husband is drawing renewed scrutiny following Paul Pelosi's latest transaction, which occurred right before House Democrats rolled out a bill banning legislators and their immediate family members from trading individual stocks.
Speaker Pelosi was first elected to office in 1987 and is currently serving her 18th term in the House. Nearly 36 years after coming to Congress, Pelosi tasked the House Administration Committee to draft a stock ban bill, but a vote on the bill was delayed before the House left for recess. Pelosi is serving her fourth term as House speaker.
The speaker's latest financial disclosure form showed that her husband exercised call options on at least $1 million-$5 million of stock in Google parent company Alphabet on Sept. 16, shortly before House Democratic leaders formally unveiled legislation that would ban lawmakers and their immediate family members from purchasing individual stocks.
Several different stock ban bills had already been proposed in the House. The House Democratic leadership's version was rolled out about one week after Paul Pelosi exercised the call options. Pelosi explained why the bill didn't move forward before Congress adjourned at the end of September.
"We didn't have the votes," Pelosi said. "I wish we would've had the Republicans to vote for it because we're almost there, but there are a few of our members who just, Steny has said he doesn't want to vote for it, but I can only lose three votes."
House Majority Leader Steny Hoyer, a Maryland Democrat who opposed bringing the bill to the floor before the House recess, said he wanted to see harsher insider trading penalties as part of the legislation.
In July, it was revealed that Paul Pelosi purchased between $1 million-$5 million of stock in the semiconductor company Nvidia ahead of an upcoming vote on legislation containing $52 billion for chipmakers. He later sold the stock ahead of the expected final vote on the bill.
Pelosi has purchased a great deal of tech stock during his wife's current term as speaker. According to a Fortune report from July 2021, Pelosi garnered millions on "timely" bets with Big Tech stock buys in advance of an antitrust bill that was moving through the House. The bill eventually stalled. Pelosi continued to make technology stock buys. In March, the speaker disclosed that her husband bought Apple, Disney and PayPal shares.
Paul Pelosi's controversial stock buys go back to 2008, when he bought Visa stock while major credit card companies were reportedly lobbying his wife to halt legislation that would curb credit card swipe fees to vendors.
"The Pelosis purchased 5,000 shares of Visa at the initial price of $44 dollars," according to a CBS News report from 2008. "Two days later it was trading at $64."
The Credit Cardholders' Bill of Rights eventually did pass out of the House.
"I will hold my record in terms of fighting the credit card companies as speaker of the House or as a member of Congress up against anyone," Speaker Pelosi told "60 Minutes" at the time.
In his 2011 book "Throw Them All Out," investigative journalist Peter Schweizer called attention to the lack of any stock trading laws that applied to members of Congress and their families. Former President Obama later signed into law the STOCK Act, which sought to prevent insider trading among legislators but didn't prohibit members of Congress or their spouses from buying individual stocks. Instead, lawmakers were required only to file financial disclosure reports that show the purchases they or their spouse made.
"So in the case of the Pelosis, for example, she's the Speaker of the House, legislation that's going to affect Big Tech in a positive way or big contracts going to Big Tech, her husband's not only buying and selling stock in Big Tech, he's actually buying options, which are sort of leveraged bets that the stock is going to go one way or the other," Schweizer told Just the News in October 2021. "And, of course, Paul Pelosi Sr. just happens to be really good at making those predictions."
A growing number of retail traders follow Mr. Pelosi's stock buys for potential winners that will generate them cash, according to a report from Reuters.
Pelosi's office said in July that she had "no prior knowledge" of her husband's semiconductor stock purchase.
"The speaker does not own any stocks," said a spokesman for Pelosi, according to FOX Business. "As you can see from the required disclosures, with which the Speaker fully cooperates, these transactions are marked 'SP' for Spouse. The Speaker has no prior knowledge or subsequent involvement in any transactions."
The Pelosis' net worth has more than doubled since 2004, according to data from Open Secrets, which reported that the speaker was the 6th wealthiest member of Congress in 2018, with an estimated net worth of more than $114 million. A 2020 analysis from the money in politics watchdog estimated that her net worth was around $41 million in 2004.
Links
STOCK TRADES ARE HOW THE BRIBES ARE PAID TO PELOSI, FEINSTEIN, BIDEN AND HARRIS
Health Officials Dumped Stocks In Jan 2020, Before COVID Was Declared An Emergency