Airline pilots describe being pushed to the limit and warn about the impact on flight safety in a cache of leaked documents that give a unique and occasionally hair-raising insight into the aviation industry.
Crews complain about fatigue and potentially dangerous schedules at a leading budget airline, which is already under pressure following a crash on 19 March that killed 62 passengers and crew.
A bomb scare at 30,000ft, multiple bird strikes, being shone at by lasers, drunken passengers, medical emergencies – and a pilot who forgot to disengage the handbrake during take-off – are also among more than 400 air safety reports written by pilots at Flydubai during March and April of this year.
One pilot at the airline, which operates across the Middle East, Europe, Asia and Africa, said: "The company is losing the confidence of pilots, and I can feel and see it when I'm flying with colleagues."
Another claimed that the number of hours he was expected to work was potentially illegal.
He wrote: "I SAY AGAIN. ILLEGAL!!!!!!!!!!!!!!! … THIS IS LEADING IN A EVEN MORE DANGEROUS SITUATION."
Flydubai said it had "never and would never ask its crew to operate outside legally permitted hours". The airline said that prevailing winds had extended the flight time in this particular case, but that there was no infringement of flying rules.
"Flydubai's first priority is safety. We operate to the highest standards," the spokesperson said.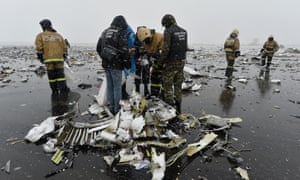 The Guardian has seen the air safety reports of 413 Flydubai flights written in the two-month period. In more than 40 reports, pilots describe concerns about fatigue. In some cases they complain about being urged to work overtime – so-called "discretion" flying – when they have warned it could be unsafe to do so.
The air safety reports also refer to incidents where, it is claimed:
One pilot's "dangerous" flying technique was criticised by an angry colleague who expressed serious concerns following a particularly harsh "bounced" landing.
A pilot conceded his plane had become uncontrollable and increased speed sharply during a period of severe turbulence.
A senior member of crew was reprimanded after falling asleep in business class during a flight – and nodding off again after he was woken.
A pilot complained his aircraft was unstable because 2,800kg of truffles had been placed in the wrong luggage compartment.
In March, Flydubai flight 981 from Dubai to Rostov-on-Don in Russia crashed in bad weather as it approached the airport, killing 55 passengers and seven crew – the airline's first fatal accident. In the aftermath, a number of theories were put forward to explain the incident, including pilot error and possible fatigue among the crew.
The plane was flying in darkness during a storm which had forced the crew to circle the airport for two hours. An investigation into the exact causes is ongoing.
'Extremely dangerous'
Documents seen by the Guardian suggest some pilots feel they are being pushed too hard and are struggling to recover from punishing day and night flight schedules.
One pilot wrote: "It is unsafe and unhelpful for crewing to continually ask the crew to go into discretion especially after the crew have said they don't feel safe to continue into discretion. Once the crew have made the statement … it should be taken as set in stone and not something to try and whittle away at! No one wants to cause additional delays, disruption and end up at an out station. If we felt safe to continue to Dubai we would have done so!"
He added: "It is unacceptable to apply pressure, however pleasantly it is done, trying to sweet talk a crew into doing something they have said they feel is unsafe is unprofessionally and extremely dangerous!"
The exasperation reflected in the documents is compounded when another pilot questions why Flydubai asks him for the names of crew members who refuse to extend their normal working hours into so-called discretion flying.
"I also have issue with the fact that [they] initially only had one concern and that was to obtain the names of those crew member(s) that considered not exercising their right to use discretion. This is irrelevant. I can only assume it was for unsavoury reasons and is poor practice that should be quashed by management."
The airline said it only asked for the names of crew members when it was necessary to update schedules to ensure "crew has sufficient rest after the flight".
Another pilot said he had been under "extreme pressure" since the crash and felt he was unable to return to work because he could not fly safely.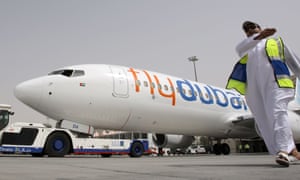 But the documents suggest pilots who say they are too tired to work place a heavier burden on those still flying.
In the days after the March crash, a crew member noted: "In times like this where we are experiencing extreme disruption, it's easy to forget about limits, but they are there for a reason. We are often rostered close to the limit anyway, and the crewing department do need to be careful with what they are asking people to do."
The variety of situations that pilots have to deal with are laid bare by other air safety reports. During one flight to Kiev in March, a passenger told the crew he had planted a bomb on board.
The pilot wrote: "He was Russian, we were just entering Ukraine, he was very verbal about being a Putin supporter – do the maths!" The plane landed and was surrounded by 200 special forces and military personnel, who wanted the pilot to order an emergency evacuation of the passengers.
"At this point i had to refuse, since the whole situation was a getting a bit ridiculous. As i told them, we had been sitting on the taxi way for over 30 minutes – if there had been a bomb on board, it would most probably have been detonated already!!"
The pilot ordered a normal disembarkation and no bomb was found on the flight.
The Guardian showed details from the documents to a senior captain and aviation safety expert who currently works for a European airline. The specialist, who asked to remain anonymous, said there were "a higher number of fatigue reports than I would expect".
He suggested the reports following the March crash could be "indicative of a belief in the pilot group that fatigue could well have played a part in the accident". "The fatigue reports feature a significant number of complaints of both poor rostering practice (repeated changing from day to night duties or 24-hour rest periods – in which it is impossible to both rest after a long duty and before the next) and pressure from crew rostering to continue when the crew are complaining of fatigue.
"Both of these clear trends … persist throughout the two month period. Any knowledgeable 'auditor' of these reports would immediately question whether safety management principles are being followed if such practices are condoned or even encouraged by the management of the airline."
Flydubai statement
Flydubai said it adhered to "all regulations set out by the regulator" and that the company had developed a "no blame" culture so pilots could raise concerns without fear of reprisals.
"In an open, transparent and confidential way staff are encouraged to report all instances that they believe may have safety related consequences. We investigate each of these air safety reports to conclusion to understand if they have any operational irregularities and any safety implications."
Flydubai said any pilot who felt too tired to fly could withdraw from duty "without any disciplinary consequence", and that the number of reports referring to fatigue was small.
"If any of our pilots have any worries or grievances, there are a number of forums and avenues available to them to raise those problems. The welfare of our crew is of the utmost importance and we provide formal and informal support mechanisms.
"We have always been committed to exceeding the regulatory standards by investing in safety, technology, training and procedures," it said.
Flydubai is a state-owned airline flying out of the UAE, whose chairman is His Highness Sheikh Ahmed Bin Saeed Al Maktoum. He also runs the Emirates airline and is president of the Department of Civil Aviation.
Set up in 2008, it is Dubai's first budget airline with a fleet of 50 brand new Boeing 737 aircraft, travelling to more than 90 destinations. Until March, it had an unblemished safety record. The company appears to be expanding quickly – it has an order for another 85 aircraft.